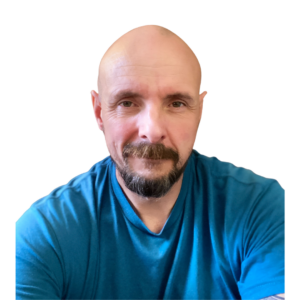 Dave James
Life Coach, Mentor, and Speaker
Dave is a life coach, mentor, and speaker with a background in healthcare. He began his career in personal care and later trained as a nurse, working in a busy emergency department. He further expanded his skills by training as a podiatrist and working in the NHS as a team leader, nail surgery lead, and biomechanical lead. Dave also serves on the committee for Forgotten Feet, a charity that supports homeless and vulnerable foot care, and currently does clinical work exclusively with them.
Dave has lectured in podiatry at the Birmingham School of Podiatry and established his own podiatry practice in 2010. However, in 2018, he sold his practice to start a career in coaching. Initially, he worked as a business coach for individuals and as a speaker on business, marketing, and social media for healthcare professionals. In recent years, he has shifted his focus from business coaching to personal coaching, where he works with individuals to improve their overall well-being and their relationships with themselves, others, and their work.
Dave is a huge advocate for mindfulness and has recently completed a PGCert in mindfulness and compassion. He incorporates mindfulness practices into his coaching, emphasising mental fitness and well-being. Whether you ask him or not, he will likely talk to you about the benefits of mindfulness and how it can transform your life.