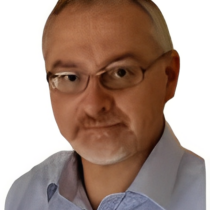 Andy Horwood
Research & Development Consultant at HealthyStep Ltd
Visiting Lecturer and Fellow at Staffordshire University
Andy has been employed within the NHS, in private hospitals, and has been an independent practitioner during his 35-year career as a podiatrist. He is now an independent researcher, designer, inventor, author, educator, and gait analysis consultant. He has just completed his first textbooks, both published (2023) by Academic Press, Elsevier:
Clinical Biomechanics in Human Locomotion: Origins and Principles.
Clinical Biomechanics in Human Locomotion: Gait and Pathomechanical Principles.
Andy helped develop the MSc in Clinical Biomechanics for Staffordshire University in the late 1990's and remains a visiting lecturer & fellow at this university. He wrote and has presented one of the modules for the Royal College of Podiatry's "Principles of Biomechanics" course on 'Functional Anatomy'.
Since 2018, he has regularly contributed to 'Podiatry Review' on Essentials of Biomechanics. He has developed and published several prescription techniques for foot orthoses and is also published in peer-reviewed journals on different areas within theoretic foot function.
In 1999, he became a product designer for HealthyStep Ltd. and continues to work at the company in research and development.
Andy has a special interest in evolutionary biology and is passionate about promoting the link between physiology and biomechanics. He hopes to facilitate the realisation that biomechanics is not just for musculoskeletal medicine, but that it is also an essential subject to consider within all aspects of locomotive and physiological healthcare.
The Biomechanics of Physiology and How to Keep Patients Healthy
Synopsis:
This lecture is particularly aimed at those who do not like clinical biomechanics and see little reason to study it once university education is over.
Biomechanics has often been taught as a subject seemly remote from other biological sciences. As it is presently taught in clinical degrees, lower limb 'biomechanics' has developed into a series of models that attempt to explain 'normal' foot function. It is suggested that variance from a proposed desirable foot function risks pathology. There is little evidence to support any of these models or even that a strict 'normal' foot function exists. This lecture will give a different perspective on biomechanics as a science integrated into genetics, developmental biology, evolution, and physiology. It will address concepts that locomotive anatomy and human physiology have evolved and continue to develop together in every individual and throughout their lives. Thus, dysfunction or misuse in one system automatically leads to dysfunction in the other. Therefore, clinicians cannot manage metabolic diseases, such as diabetes, without addressing issues within locomotion biomechanics.
Learning Outcomes:
To appreciate that biomechanics does not exist as a subject outside of the other biological sciences.
To understand that biomechanical forces drive the construction of anatomy through biochemical signals that form each unique individual.
To identify key issues within a patient's lifestyle that undermine their biomechanical-physiological health.
To be able to advise patients on how to improve their biomechanical-physiological relationship.