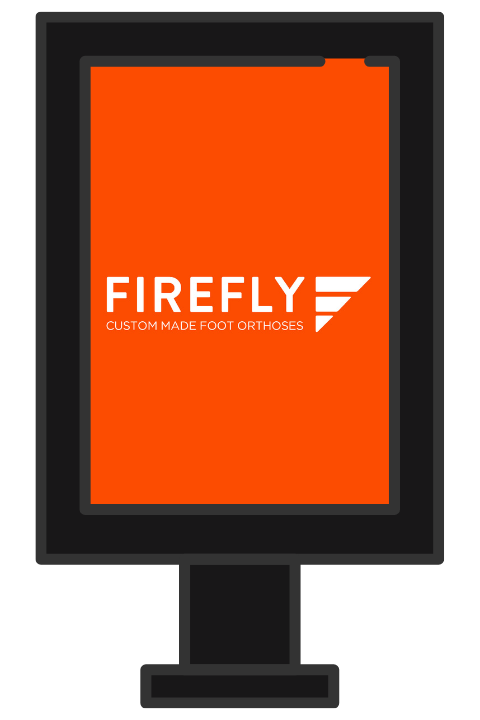 Firefly Orthoses have been designing, manufacturing and distributing custom made foot orthoses to the Podiatric profession since 2003.
As Firefly is directed and operated by Podiatrists, to meet the needs of the podiatric profession, our laboratory consistently achieves excellence in the standard of our devices. We manufacture orthotic devices from plaster cast moulds, bio foam impressions and digital foot scans.
This influences how we interact and support our customers throughout the process of prescribing Firefly's orthoses. Our technical support department offers guidance and advice on all Firefly devices and on how specific devices interact with particular foot and ankle pathologies. See our Technical Support section for more on this.
Discover FUSION, Firefly's 3D scanning and prescription writing app for iPad.
Sign up for a Firefly Orthoses account today and get 50% off your first set of custom foot orthoses prescribed with Firefly. 
Launch webinar discussing Firefly's range of sustainable, plant-based, 3D printed custom foot orthoses.
Podiatrist Sarah O'Connell and Firefly CEO Martin McGeough discuss this pathology that is presenting more frequently in our clinical division. They outline an appropriate treatment plan and detail the prescription for the custom foot orthotic.
Dr. Doug Richie, creator of the Richie Brace range of AFOs discusses his career, the development of the Richie Brace ankle foot orthotic and his new book with Martin McGeough & Sarah O'Connell of Firefly Orthoses.
Podiatrist Sarah O'Connell and Firefly CEO Martin McGeough discuss how the Richie Brace range of AFOs can bring a broader scope of practice to your clinic and help achieve better patient outcomes.
Eimear Kenny provides an overview of Firefly most common shell and top cover materials and discusses the order form. If you are new to Firefly this is an ideal starter video to become familiar with Firefly.